BEST BETS
Here are some comments we received recently from visitors to Antigua and Barbuda: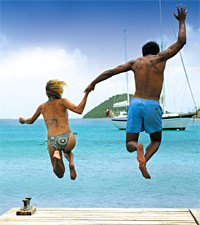 We visited the island last week, only had one day, but it was long enough to know we definitely want to come back. Beautiful Island.
Joan Ferguson
I spent the summer in Antigua, at the Salvation Army Sunshine Home for Girls. I had a magnificent summer, and can't wait to visit the beautiful island of Antigua again someday. I've been to quite a few Caribbean islands, and I have to say that Antigua is the most beautiful I've seen.
Amy Stoker
We got married on the 24th January 2000 at the Royal Antiguan Hotel. It was absolutely marvelous and we would recommend anyone getting married there. They really put themselves out to make a memorable day. I hope to return for a anniversary holiday with friends whom we met there.
Thank you again for a lovely holiday and wedding.
Deidre and Ken Howell
I went to Antigua during the summer. I travelled with my sister and stayed with friends that lived there. The locals were very friendly and the beaches were amazing. I thought the Jolly Roger boat trip was great fun and you can drink as much as you like and the food was gorgeous. The only problem was that when you went souvenir hunting a lot of traders tried to force you into buying off them. But that is the same everywhere you go. I would advise anybody, who would ask me, to go to Antigua as it is an experience of a life-time.
Catherine B
Just got back from spending a week at the Royal Antiguan. It was the most relaxing holiday I have had in a long time. The hotel, food, beach and people were wonderful. Best vacation ever.
Barbara E
Just visited Antigua,Nelson Harbour, Falmouth Harbour, the week Feb.22-27th.. This place is a DREAM!! The locals are friendly and fun. Going back next year the same time.
Eric W
Just returned from a wonderful week at the Royal Antiguan - really enjoyed the facility. The staff was helpful - the grounds were beautiful and the view from the beach was breathtaking - enjoyed watching many weddings - the only suggestion I have for the Royal Antiguan is to invest in a better roll-a-way and do Karaoke more. The meals were great and the people on the beach were fun - look up Tony and take a catamaran ride on the KoKoMoCat- great time was had by our group - I'd do it again and I have visited many Caribbean islands and found this to be one that I would visit again. Thanks for a perfect vacation - my hats off to the Royal Antiguan Staff.
Just returned from Sandals, Antigua. We had an absolutely wonderful time. The island is spectacular. We are very glad that we picked Sandals. The beach was beautiful and the grounds were exquisite. We enjoyed the food and there was plenty to do (if you wanted to) or you could just spend the day relaxing on the beach or just walking around the grounds admiring the scenery. A definite must see!
Jean
It was great!!! We went to Club Antigua, and stayed in Jolly Harbour. There is loads to do, and i would recommend it to anyone. We thought it was so good we booked the exactly same holiday the day we got back in England. We went for Christmas and it was really hot and the food was wonderful.
Alex M
My husband and I have been to Antigua several times. We loved the island and have always had a great time. Our favorite beach for sunset time is Johnsons point. (WestSide) Everything about that area is breath taking. Also, dinner at Alberto's on the other side of the island. Excellent place, Alberto is wonderful as well. Its a nice drive through fig tree road from one side to the other.
I agree with the other people about Shirley Heights, shouldn't be missed, the views are terrific. We happen to be up there for a eclipse of the moon on our second trip. It was great. Although the food we felt wasn't very good and we would only recommend having drinks then going somewhere else for dinner.
For lunch a nice drive and good food. Check out Harmony Hall. The people are nice, you can enjoy lunch and do a little shopping plus check out the island a little. Renting a car is not a problem it is a little hard driving on the opposite side of the road and trying to miss the pot holes. But we recommend getting a car if you want to check out the island.
Antigua is a great island plenty to do or not to do. If anyone has questions you can email me. I will be happy to share what I know about the island. Everyone deserves to have aexcellent trip. We always do. Crossroads.Tiffany@wspan.com
RoseMary Tiffany
Probably you'll want to check our Antigua and Barbuda newsgroup that we maintain on our server to find what is going on, to post your questions, to get acquainted with other people interested in our enchanting archipelago.
---

This page, and all contents of this Web site are Copyright (c) 1996-2013 by interKnowledge Corp., New York, NY. All rights reserved.