GETTING MARRIED
Talk to fellow travellers...
Come visit our newsgroup for the latest info.
Click here to see what visitors are saying about getting married in Antigua and Barbuda.
More and more people are getting married while on vacation, and it's now easy to do in Antigua and Barbuda. Even cruise ship visitors can now get married. There are three simple steps: Visit the Ministry of Justice located on lower Nevis Street in downtown St. John's with your valid passports, complete the application and pay applicable fees.
Confirm a date and time for the ceremony with a Marriage Officer, and ...

Get married - Congratulations!!
---
What are the fees?
First, there is a registration fee of US$40 that must be paid at the courthouse in the new government buildings on Queen Elizabeth Highway. The application fee for the special marriage license is US$150, and the Marriage Officer's fee is US$50.
How about documents? What do we need?
You both will need valid passports as proof of citizenship. If either of you have been previously married, then bring along the original divorce decree or, in the case of a widow or widower, the original marriage and death certificates.
For a copy of the marriage license application, please click here for the pdf form.
Are there any other legal requirements?
Both parties must be over 15, if under 18, written authorization from your parents or guardians is required. It is important that all documents presented are original or certified original by the issuing departments or offices. Ensure that all documents are in your legal name, and provide affidavits in cases where you are known by another name. Your marriage must also be solemnized or celebrated in the presence of two or more witnesses, apart from the Marriage Officer. (Just ask a guest or two to do this for you).
Is the marriage ceremony legal?
Of course, it is both legal and binding. Additionally, consent must be expressed by both parties to accept each other as husband and wife.
Can I be married in a church?
Yes, but it requires the permission from the church authorities where you wish to be married. Have your pastor contact the church to establish the requirements. Some churches ask that the couple attend pre-nuptial consultations. Allow some extra time if planning a church ceremony.
Where can I get a list of churches in Antigua?
Contact the Antigua and Barbuda Department of Tourism for a list of churches on the island.
Can my hotel assist with the arrangements?
Certainly, as most hotels in Antigua and Barbuda offer wedding and honeymoon packages. Check with your travel agent or the Antigua and Barbuda Department of Tourism for more information.
The Ministry of Legal Affairs is open Monday to Thursday, 8:30am to 4:30pm and on Fridays from 8:00am to 3:00pm. Flights which arrive into Antigua after 3:00pm will not permit couples to get to the Ministry of Justice in time to apply for the Special Marriage License. In such cases, the couple can arrange for the marriage to take place either the next day after completing the application process, or, on any available day thereafter.
Events Management Antigua specializes in creative development and flawless execution of numerous types of events.
Website: http://www.eventsmanagementantigua.com/
---
Indigo Event Services
info@indigoeventservices.com
www.indigoeventservices.com
Tel (268) 726 5098
---
Fantasy Brides2000 is a unique bridal service agency which specializes in organizing weddings in the Caribbean. We find exotic and extraordinary locations on the islands for your wedding ceremony.

We will customize your wedding to your exact specifications, and make all the arrangements before you arrive. We secure Hotel accommodations and catering services...to ordering your flowers and marriage license....everything you need to make your wedding day perfect.

www.fantasybrides2000.com

Telephone : 914-837-7857

Mailing Address :
130 Glenwood Avenue, Suite #20, Yonkers, NY 10703
General Information: clesti@aol.com
---
Renewal of Vows

No license is required. Contact the Marriage Coordinator at (268) 460 4347 to reserve a marriage officer for a civil ceremony or contact the church directly for a religious ceremony.
---
PRESS RELEASE:
CELEBRITY WEDDING FEATURES ALL OF THE DESTINATION'S ROMANTIC ASSETS
(St. John's, Antigua, May 24, 2007) As Antigua and Barbuda continues to celebrate June as the Month of Romance, love was in the air at the Hermitage Bay Hotel, the site of this year's Celebrity Destination Wedding.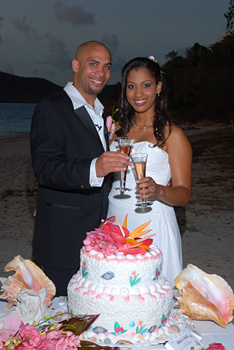 Melissa Saint-Cyr and Derrick Ward, winners of this year's Destination Wedding Sweepstakes, exchanged nuptials on the island's southwest coast, at a ceremony hosted by the Ministry of Tourism and other key stakeholders.

Celebrity couple and award winning R & B performers, Kenny Lattimore and Chante Moore, guests of honor at this intimate ceremony, serenaded the couple and guests with a live performance of a Love Ballad against the backdrop of a majestic sunset view, at one of Antigua and Barbuda's newest upscale properties.
The Lattimore's were married five years ago in a similar romantic setting at a Destination Wedding in Jamaica and commented that they "felt honored to be a part of such an important event that symbolized unity between couples, families and the community."
Demonstrating the destination's commitment to this promotion, Minister of Tourism, Harold Lovell was one of the witnesses and signatories on the couple's marriage certificate. Ms. Skepple was the officiating marriage officer and prayers of thanksgiving were offered by Rev. Carlsen Christie.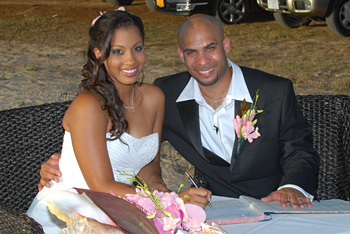 As the gentle waves lapped the shoreline, flower girls from Verity Dance group, created an exotic pathway of fresh petals as the bride made her processional down the aisle to the sounds of local jazz musician Foster Joseph.
At sundown, the couple was whisked away in a horse and carriage provided by Stella of Bolans.
The romantic shore side event was a fan fare of baby pink and tropical flowers.. The wedding gown was provided by Demetrios Brides and wedding bands provided by Colombian Emeralds. The wedding exuded the true flavors of the destination as most of the resources were donated by local providers: Photography by Photo Fantasy, Flowers by Exotic Flowers, Hair and Make-up by Mingles and wedding cake by Lisa's Creations.
The wedding was attended by tourism officials, stakeholders and sponsors and was carried live on local television station ABS.
Derede Samuel Whitlock, Director of Tourism for the United States, indicated that " the wedding was very special and everyone present could feel the love that this twin island destination has to offer. We expect that with the celebrity involvement that the event will provide significant media exposure for the destination and help to position us as the 'Romance Capital' of the Caribbean."
On the eve of the Celebrity Wedding, the Ministry of Tourism hosted a cocktail reception at the Copper and Lumber Store, to honor both the wedding couple and the celebrity couple. At the event, a Diamond Hunt Contest that features Nelson's Dockyard as one of the most romantic sites in Antigua and Barbuda was also launched as part of the Romance promotions. The Diamond Hunt is being hosted at www.antiguabarbudaevents.com and will run through the end of October.
---


MORE WEDDING WISHES NOW GRANTED
AT ANTIGUA'S JOLLY BEACH RESORT
-- New Wedding Package Offers More Than Ever For Same Price --
St. John's, Antigua; April 2003 -- Whether lovers are tying the knot for the first time or renewing their vows, individual attention, spectacular settings and excellent value all combine to make Jolly Beach Resort the perfect choice for a dream wedding. This all-inclusive resort's Wedding Package now offers couples more than ever for the same great price, $595.00. There's more: should family and friends come along, and (apart from the bridal couple) occupy five rooms for seven nights apiece, the wedding package is on the house.

The Jolly Beach Wedding Package covers all the legal requirements, including a short trip into town to have the license issued, the fee for the license, the services of a marriage officer, witnesses if needed, and a Wedding Certificate valid in the U.S., Canada and the U.K among many others. There's a bouquet for the bride and a buttonhole for the groom, a Caribbean wedding cake, a tray of hors d'oeuvres and a bottle of champagne to toast the future. And effective March 2003 there's a new feature: the hotel will e-mail a wedding photo provided by the happy couple and they'll also get an announcement to their choice of 10 people and a hometown newspaper, plus two bottles of massage oils, a bottle of wine and an intimate, personally served dinner for two. Just for fun, Jolly Beach has thrown in a $50 voucher per couple for any Wadadli Cats cruise, two Jolly Beach logo mugs and "Just Married" shirts. Special features from still photography or a video, to a steel band, or a horse and carriage for the bride and groom can be arranged at additional cost.

It's not hard to see why Jolly Beach is a popular choice for lovers from several continents. The property sits in 40 acres of gardens, boasting a one-mile stretch of pristine white sand beach, and offering a choice of two romantic gazebos for the perfect ceremony - one high above the huge fantasy pool looking out to sea, the other just steps away from the sand and surf. While these are the most-chosen sites, any desired location on the 40-acre property is easily accommodated. Wedding parties staying at Jolly Beach enjoy a wedding dinner, or a tropical reception at one of the resort's five restaurants.

The staff at Jolly Beach adore brides, grooms, ceremonies and all the trimmings, and want to take arrangements in hand so every couple can relax and enjoy their wedding in paradise. A call to wedding coordinator Beverly King at the resort (1-268-462-0061, fax: 1-268-562-2302) or a visit to the "Wedding Information Request Form" on the Jolly Beach website (www.jollybeachresort.com) is all it takes to signal your interest.

There is no residency requirement to be married in Antigua, but the resort requires one working day prior to the ceremony to process necessary documents. Here's what couples need to have: passports and birth certificates; if necessary, originals of a Decree Absolute for parties who are divorced, Death and Marriage Certificates in the case of a widow or widower, or Deed Poll in the case of a name change. A notarized affidavit of consent signed by both parents is required for anyone under the age of 18.

Best of all, even if you choose to get married at home, Jolly Beach's all-inclusive format delivers all the resort offers for rates that make it the perfect honeymoon getaway. Rates for a Standard Room start at $140 per person April 16, 2003 through December 20, 2003 based on double occupancy and include tax and service.

For more information about planning a wedding and honeymoon at Jolly Beach call the resort toll free at 866-905-6559, 800-652-2962 for reservations in the US and Canada or visit www.jollybeachresort.com.
---

This page, and all contents of this Web site are Copyright (c) 1996-2013 by interKnowledge Corp., New York, NY. All rights reserved.